the fjällräven way
We want to conduct business the same way we spend time in nature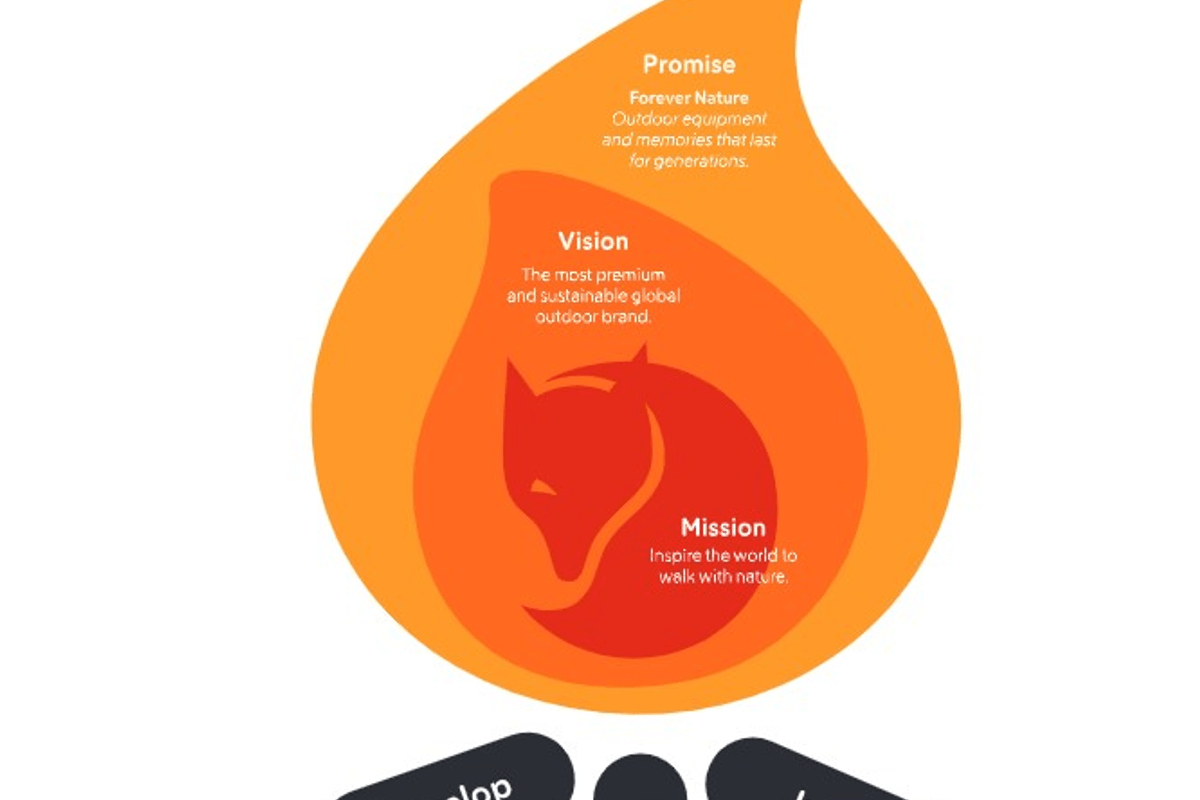 Our mission is to inspire the world to walk with nature
Because nature is good for us. Nature makes us happier, healthier and more considerate towards the environment. The more time we spend in nature, the more we grow appreciation, love and respect for it. In nature we are all equal. We have the same needs to stay warm, dry, safe and protected. We gather around a campfire for the same reason.
The Fjällräven Vision and Mission is illustrated in a campfire. We want everyone who crosses paths with
Fjällräven to join us around this fire. To create true relationships, open dialogues and new ideas.
Develop

Develop durable, functional and timeless outdoor equipment.

Act

Act responsibly towards nature, humans and animals

Inspire

Inspire and encourage people to discover outdoor life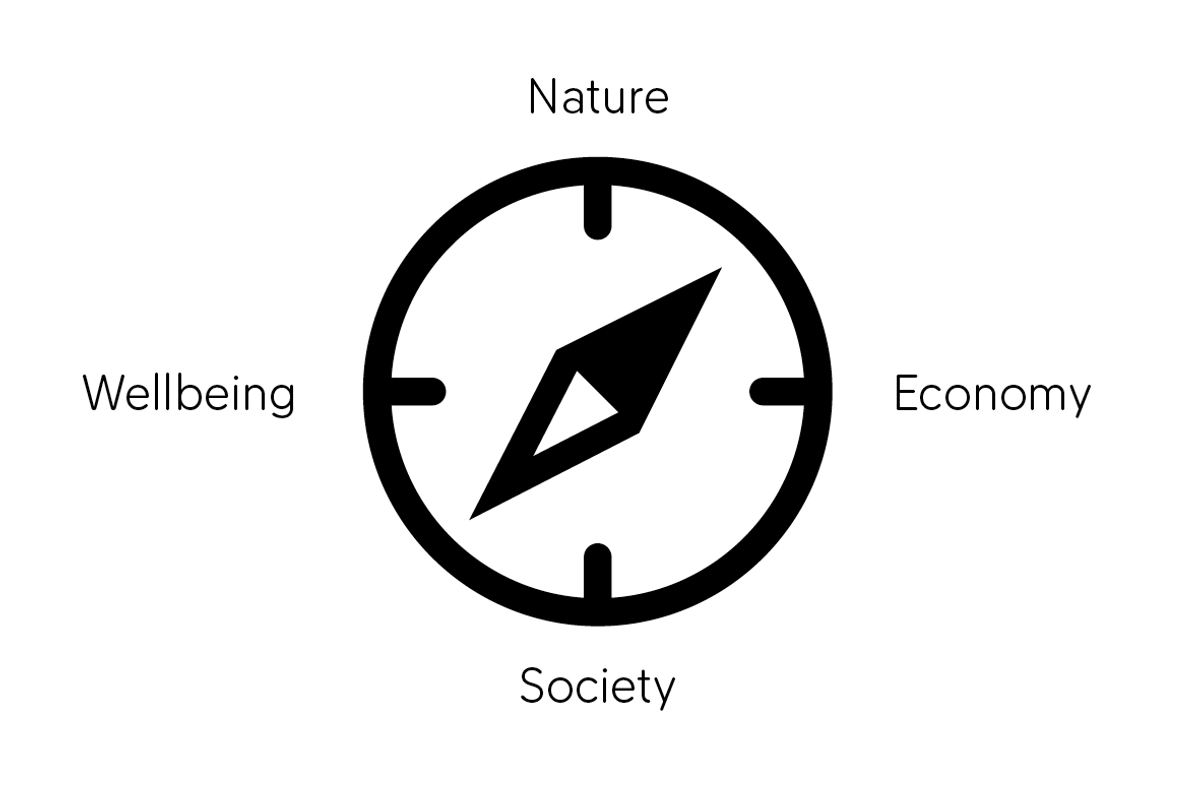 Our compass
Our core values are embedded in the compass that guides us in all our decisions. They represent our beliefs, and are reflected in our business practices. In every decision we make, we carefully consider the impact on Nature, Economy, Society and Wellbeing.
Sustainability is deeply integrated into our long-term business development as well as our everyday operations. A sustainable decision is one that creates a balance between all cardinal directions of our compass, aligns with our core values and leads us closer to our mission.
Read more about each direction below and how we use the compass as our constant guidance in our daily work.
nature
"We want to leave basecamp in a better shape than we found it"
Let's put it simply: We love nature. We want it to be there - open and whole for all generations to come. Big and vast to get lost in, wild and untamed to be captured by, grand and beautiful to fill you with joy. This is why we exist as a company. For us, nature is everything, and without it, we would be nothing. We want our products to make people feel at home in nature. We want them to help more people find their way into the woods, up the mountains and down the rivers. And we want them to last long enough to be passed on to the next generation.
So when it comes to development, we don't let short term goals or chance decide our route. Experience is our trusted compass. Design and innovation are paths we tread consciously and with care.
We are not here to conquer mountains, tame rivers or beat the weather. We are here to go slowly, to tread carefully and to cherish the visit. For us, the outdoor experience has never been a race to victory. For us, it is an ongoing journey to create equipment and memories that last for generations to come.
In our everyday operations this means that we:
Carefully scrutinize every aspect of our environmental impact to ensure we minimize negative impact and, where possible, be a force for positive change.
Create equipment that is durable, functional and timeless, meant to last for generations.
Reduce our CO2 emissions in line with what is needed to combat climate change.
economy
"Running a company is like keeping a camp fire alive"
We have been inspiring people to spend time in nature since the 1960s, and we intend to stick around for a lot longer. Running a company is a bit like keeping a campfire alive. If you throw on all the wood at once you get a big bonfire that will quickly burn to ashes. And if it is not attended to it will die out. So feeding our campfire with enough wood to keep it stable and long-term is what creates sustainable financial performance. It ensures that we can grow in a pace that allows us to stay true to our core values.
By running a profitable business we can create means to reinvest in innovation, create positive impact in the communities and lives of our employees, employ more passionate team members and inspire even more people to walk with nature.
Our aim is not to become the biggest, but the best at what we do. We make products with a functional need, and do not intend to grow on short term trends. We want to have healthy distribution with partners that represent the same values as our own and can provide a mutual beneficial relationship. All resources are valuable, and we use ours with careful consideration.
In our everyday operations this means that we:

Carefully select our distribution and not chase short-term growth or margins at the expense of our core values.
Select manufacturing that share our values and do not chase short term cost cuts at the expense of stable partnerships and high quality.
Keep on innovating to develop new solutions, internal infrastructure, support systems, logistics and the whole ecosystem of our business in order to improve efficiency and create more sustainable business practices.
Put our users' needs first, providing high quality products, services, experiences and support.
society
"Nature does not judge – in the outdoors we are all equal"
As a company our wish is to contribute to well-functioning communities, wherever we do business. Whether it is out in nature or in civil society we apply the same principle of striving to leave basecamp in better shape than we found it.

One key element for us as an outdoor company is that nature is available to everyone. Nature does not judge and neither should we. Everyone should be treated equal, with equal opportunities to fulfil their potential, independent of who you are, where you are from, your background or beliefs.
We might be a small contributor, but we believe that there is a role for us as a company in the many different communities we
are present in, where we can lead by example to advocate for these core values.
In our everyday operations this means that we:

Strive to ensure that our own operations as well as the experiences we create are as inclusive as possible.
Reach out and actively include a diverse community base in our goal to inspire people to walk with nature.
Educate and ensure all our partners and their constituencies in the supply chain have equal and non-discriminating practices in place.
We advocate for the same kind of equal and non-judgmental practices we see in nature by setting an example, communicating where we stand and engage in the communities in which operate.
wellbeing
"Just as trekking together is a demonstration of unity, trust and competence so is working together"
As with all companies, Fjällräven is defined by the people who work here. We are made up of individuals who are devoted outdoor enthusiasts that feel personally motivated to inspire the world to walk with nature. Every single part of our operations, and every individual is contributing to and working towards our common mission. And just like a team of trekkers, learning and developing together, trusting each other and valuing our differences is crucial to reach our goals.
Whether we are heading for a mountain top or the next business target, we are on a journey together. We expect everyone who joins us to work hard to support taking us in the direction we want to go. As in nature, the sun can shine or it can be in difficult terrain and bad weather, but we believe that by creating an environment where we all
know where we are headed, see our own contribution on the path, and feel rewarded with each milestone along the way
A successful trek requires leaders that work as trekking guides, with the important responsibility to provide clear directions for their team. It requires trust in that everyone will take on the task of discovering the best path towards the goal, through curiosity and continuous learnings.
It requires that we are ready to help and support each other to get better. And it requires that we value our differences and use them to maximize the effect of our global competence. Our teams are spread all around the globe, but unite around the campfire that keeps our business alive.
In our everyday operations this means that we:

Maintain healthy and safe workplaces where employees can reach their potential.
Provide direction and trust through clear leadership.
Provide equal opportunities for development and growth for all employees.
Expect everyone to put in their best efforts and take accountability for theircontribution on our journey
Encourage an open communication between all levels of the organisation to make best use of and accelerate the pool of competence that comes with a global, diverse team.
Our guiding principles
Conduct business the same way we spend time in nature

With respect, competence and by leaving basecamp in a better shape than we found it. We believe that business should, in every aspect of its operations, contribute to engaged and healthy people; strong communities; healthy and more resilient natural systems; and top financial performance

We lead by example

This means that we focus on what we can do ourselves to set the bar high in all areas of our core values. By focusing on leading by example, we are able to create credibility and, if needed, able to voice our opinions authentically, reflecting our ongoing business practices. We are proud of our achievements and humble towards all the challenges that navigating towards an ever more sustainable business practice might call for.

We are conscious advocates

Rather than using our external communication channels as a means for political or societal activism, we will create communication that is clearly rooted in our core values and readily able to advocate for what is important to us, thereby making what we stand for clear to anyone who meets our brand.